Mechanical & Combined Test
To ensure the robustness and functioning of the products in a safe condition and in use or during transport.
Mechanical tests – known as vibration, shock, jolt, etc. – are used to analyse the dynamic behaviour of equipment and to specify the ability of a product to withstand the environmental conditions it may encounter throughout its life.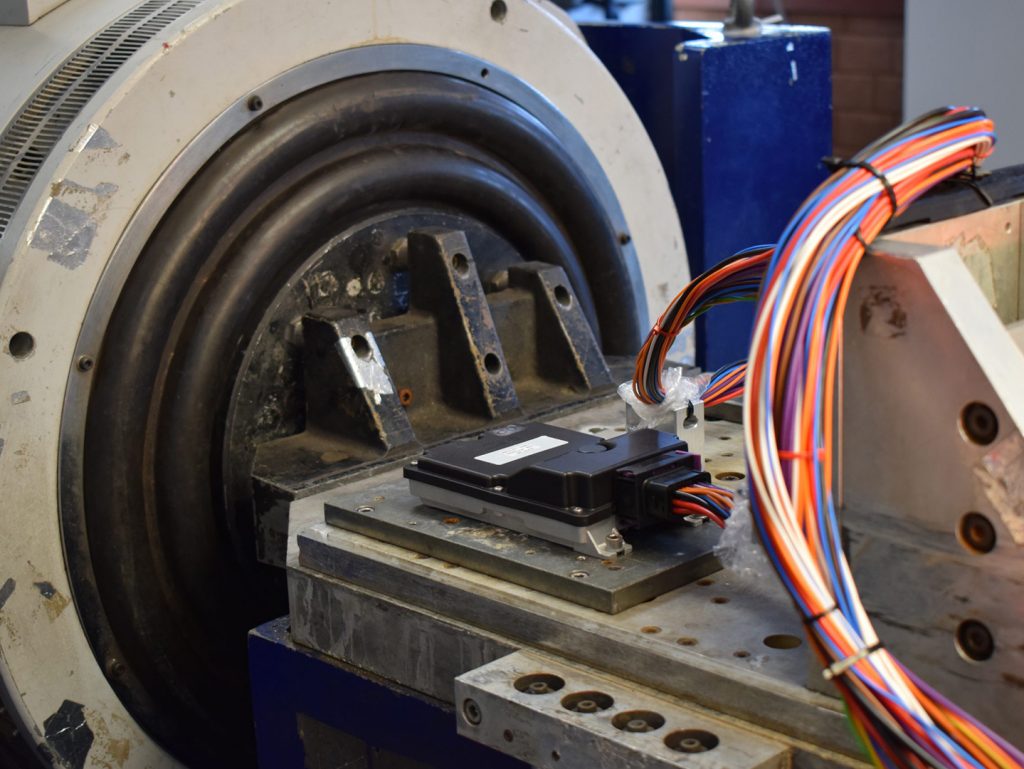 Vibration tests are used to define mechanical weaknesses and/or to predict degradation in product performance. During these tests, the equipment is placed on an "EGV" bench and is subjected to a very specific and reproducible profile depending on the use case of the same product (geometry, weight, etc.).
These tests form a family of tests that complements the climatic and physico-chemical environments.
Our vibration equipment is capable of performing all types of vibration tests in the frequency band from 5 Hz to 2.5Kz with an acceleration of up to 100gn and a force of 30KN.
Vibration tests are diverse:
Sinusoidal vibration tests
Simulate the vibrations that occur during transport and/or operation. This type of testing is commonly used for military, aeronautical and space applications, to replicate events such as aircraft take-offs, missile launches, or transportation over rough terrain…
Used to demonstrate product reliability and structural resonance research in all kinds of sectors such as automotive, electronics, aeronautics, space, defence, or consumer products…
Simulate extreme conditions to which the sample may be exposed during handling, transport and/or daily use (e.g. falling objects, exposure to an explosion, etc.).
Our dynamic loop system, developed specifically for validation testing of automotive wiring harnesses, enables engine/chassis stress tests to be carried out by simulating cold start, high and low speed. Depending on the vehicle layout, the harnesses are subjected to stresses by physical characteristics defined according to the customer's needs: temperature, vibrations or both at the same time.
Our dynamic loop system has the following characteristics
Displacements on the 3 axes: X, Y and Z and up to 100 mm of displacement.
Testing under various ambient or extreme climatic conditions by simply mounting the equipment in our thermal chambers.
Over 1 million cycles with frequency from 1Hz.
COMBINED ENDURANCE AND VIBRATION TEST
Vibration combined with temperature
By simultaneously combining the effects of extreme temperature conditions and vibration patterns, ACTIA ES environmental testing experts are able to evaluate results more quickly. Our electrodynamic and hydraulic vibration equipment can be combined with thermal and humidity chambers to reproduce product service conditions.
Highly Accelerated Life Test
They combine high temperatures with random vibrations to assess the performance and durability of a design and the reliability of the product.
They are carried out either by a combination of vibration and climatic means or by a specific machine which our laboratory is equipped with. HALT tests are frequently used in R&D and product design validation to anticipate problems before they occur and to avoid costly errors that may occur during final or field qualification testing. These manipulations provide critical information about the performance of finished components, systems and sub-components. Our engineers simulate these manoeuvres to discover hidden defects before products are sent to market, avoiding the hidden costs associated with the product development life cycle. This monitoring therefore provides crucial details on structural vulnerability, thermal reactions, service life, etc.
For more information, our team is at your service to answer you as soon as possible.